Graham Reid | | 2 min read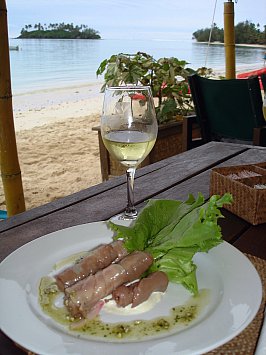 Every now and again -- if we are really lucky -- we realise we are in that postcard perfect world we have lingered over in the pages of glossy magazines, but images which we persuade ourselves only the combination of weather, a talented photographer and PhotoShop could allow to exist.
But then, suddenly, there we are. We are the person just beyond the frame of perfection frozen in the lens.
It was at the Pacific Resort, Rarotonga on a slow mid-morning that I saw it: in the foreground were my pink and succulent raw fish rolls with a glisten of vinegar and a smattering of coconut juice; in the mid-ground was a glass of gleaming chardonnay with beads of moisture on the side catching sparks of sunlight; and beyond that the white sand, the still lagoon and a palm tree speckled island no larger than a rugby field, lying just where the white waves broke on the reef.
It was a strange kind of cliche, but made resonant by the absence of swimsuit models or cuisine writers who usually clutter up such a captured moment in a magazine.
And best of all, this moment -- which stretched to a couple of hours -- had arrived by accident.
I had been at the Pacific Resort about an hour beforehand to meet the manager Greg, a former Kiwi, at the instigation of a mutual friend who -- on learning I was going to be on Rarotonga for a family wedding -- suggested I look up his old mate.
And so I did.
Greg was welcoming to a complete stranger and showed me around the property, a lush slice of manicured tropical gardens and discreetly placed rooms which reminded me of the luxury resorts I have seen in Bali and Thailand as much as it did of the Cook Islands.
I have to say, I fell for it from the moment I walked through the cool, dark wood and open air lobby of the resort.
But the clincher was when we went to the tables on the quiet beach for a coffee and a chat about our mutual friend, and life in general.
Greg had sold his business in Auckland and come up here four years previous, a change of career and life he had absolutely no regrets about.
The downside was hed put on a bit of weight but, at 50 . . Ahh, what the hell.
So we had coffee, watched kids paddle in the shallows and a couple in a transparent canoe row by, and a guy put out on the breezeless lagoon in a small yacht for some stress-free sailing. We talked about . . . Oh, just this and that, really.
Later I said my goodbyes, promising to pass on his regards to our friend back home, and also saying I would return for a dinner at the Barefoot Restaurant where we had just passed a pleasant morning.
I was back within the hour with my wife and her aunt.
We sat and watched kids paddle in the shallows, a guy lazily snorkelling, we talked about . . . Oh, just this and that, really.
Then our lunch arrived and I saw it, that photograph from a glossy magazine right there on the table in front of me, with the lagoon and island beyond.
We were there on the other side of the camera, just beyond the frame of perfection frozen in the lens.
I couldn't help myself. I took the photo.