Graham Reid | | 1 min read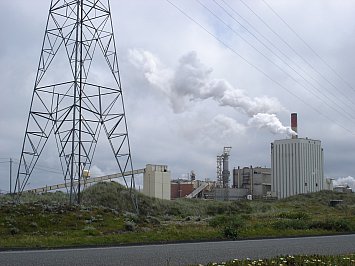 The mere name of a place can act like a magnet for the curious traveller -- and not just those evocative and familiar ones like Paris, Barcelona, Beirut or Beijing which have been burned into us since childhood.
But when you finally get to such familiar places they can look . . . well, pretty familiar. Years of watching movies set in them, seeing photographs in magazines, or getting postcards from friends who are there can take away many elements of surprise.
Places with unusual names can sometimes prove more interesting by virtue of their unexpectedness.
While driving around America's Pacific Northwest out of sheer curiosity, and just because I could, I went to Westport, the neighbouring hamlets of Beaver and Sappho (what were those settlers thinking?), and Weed.
Inevitably Samoa, some two hours north of San Francisco, beckoned.
Because my father-in-law was born in Samoa -- the real one -- this Other Samoa deserved to be photographed for a laugh back home.
And we got the picture -- a huge factory belching smoke, a world away from the tiny village where he grew up.
Samoa USA has one major attraction however, the famous Samoa Cookhouse which used to cater to hundreds of timber workers who spent their days in the nearby mountains felling redwoods, and chopping down half of the stands in California in the 100 years after the 1849 gold rush.
Samoa USA -- less a town that a cookhouse with some nearby houses, a wind-blown coast and piers along the bay -- apparently got its name a century ago when a local businessman built himself a heated swimming pool. At that time American Samoa was in the news and this enclosed piece of privately owned, tropically warm water became known as Samoa.
The massive Samoa Cookhouse -- which seats hundreds in its various rooms -- was built 100 years ago and serves three cheap, hefty meals a day.
Its long tables are covered in plastic tablecloths, its walls lined with sepia-toned photographs of enormous men beside monstrous trees and felling equipment, there is large and slightly threatening looking metal gear hanging from hooks and shoved into corners, and the whole place feels part museum/part chowhouse.
To make things easy -- and to feed the multitude -- there is a set menu and our lunch of Cajun chicken soup, steak and potatoes, salad, bread, coffee and dessert is a paltry US$9.95. Unbelievably, seniors and kids get discount.
We sat in the huge main room with half a dozen other diners scattered about the 20 or so tables and ate ourselves almost the point of unconsciousness.
And so, filled to eyebrows and barely able to stand we made for the car and left exotically named if unattractive Samoa and crossed the bay to drive through . . . Eureka.
Of course.