Graham Reid | | 2 min read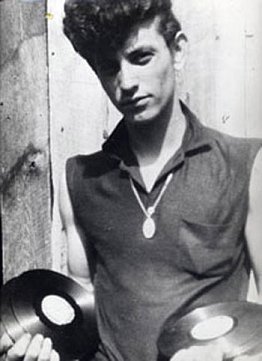 Whatever his style was, fame had no interest in embracing it. The closest this rockabilly blues screamer -- who started in the mid Fifties -- came to wider recognition was when the Cramps covered his song She Said and some of his music appeared in the film White Lightin'.
But for Hasil (pronounced "hassle"), he just had to make do with juke joints and bars, and being a punk rocker long before the term was even thought of.
The indifference of major record companies (to whom he sent tapes) didn't trouble him much: he started his own company and released 16 or 17 albums on it, and it is widely believed he wrote as many as 7000 songs -- at least that was his claim -- before his death in 2005 when he was probably about 67. (The actual date of his birth in West Virginia isn't established.)
Many of Adkins songs were recorded at home and they have a primitive, primal and unapologetically raw quality. He could wail like a bluesman, get a bit country-rock or simply deliver throat searing proto-rock'n'roll. A lot of people can't stand his voice -- but it came roarin' out of him anyway. Psychobilly his style was called.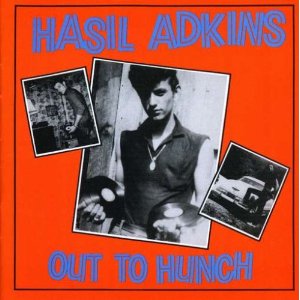 He was a self-taught singer and guitarist (some say he should have spent a bit more time on it) and was known as "The Haze". He was demented in performance (as you can hear from She Said, one of his most "famous" songs) and his lyrics sometimes didn't make much sense. Those that were audible.
The '86 collection Out to Hunch pulled together some of his songs from '55-'65 and they are staggering in their energy. Aside from his originals he also covers High School Confidential (with a band) and Chuck Berry's Memphis.
The final track is I Need Your Head (This Ain't No Rock'n'Roll Show) and it sounds like he's sung it down a telephone line into a tin can then slowed down the tape. It makes Pere Ubu sound like easy listening.
A note at the foot of the album says "Sound quality on some tracks may vary with intoxication levels".
Hasil was a ferocious drinker.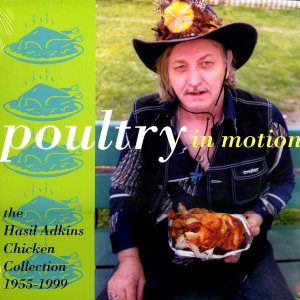 He also loved chicken and there is a collection of his chicken songs (Chicken Walk, Chicken Hunch, Chicken Blues, Chicken on the Bone etc) entitled Poultry in Motion. He was a funny guy.
On She Said he "sings" about waking up with a girl so ugly "she looked like a dying can of commodity meat".
He sang blatantly about sex (when he sings "open up baby and let me come in" he's not standing outside the door) and eating peanut butter on the moon, and about decapitating young girls' noggins and hanging them on the wall.
He was mostly a solo artist for a simple reason: "I can't have no band. I like to change to different chords and can't expect nobody to follow me."
He couldn't afford drums so he just stomped his foot. His song The Hunch should have been a huge hit in the early Elvis era -- but it probably needed to be recorded rather more cleanly.
American writer Nick Tosches said, "Like the Bible and toilet paper, the music of Hasil Adkins belongs in every household, and none is a home without it." He might also have said that Adkins wrote the rockabilly Bible on toilet paper.

Hasil Adkins was like the bastard love child of Screamin Jay Hawkins and Jerry Lee Lewis who sounded like an explosion in biscuit tin factory -- with a rockabilly beat.
There is a posthumous website which sells his albums and CDs, and a doco My Blue Star: The Life and Hunchin' Times of Hasil "Haze" Adkins.
A star still waiting for the call.
For other articles in the series of strange characters in music, WE NEED TO TALK ABOUT . . . go here.