Graham Reid | | 4 min read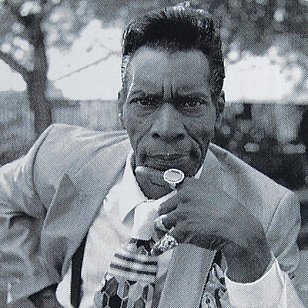 To hear William Daron Pullman tell how he got his non-de-disque at the dawn of the Seventies gives an insight into both his smarts, and how he could just as equally be seduced by the money-image thing.
Although he'd been a San Franciscan musician since the mid Sixties (when as someone barely out of his teens he was known as Junior), he'd put aside the guitar and revealed himself an astute businessman by investing in property from his day job as a railway engineer, an idea he'd pursued years previously when -- as a teenager -- he'd bought his first house.
With a penchant for flamboyancy and flash cars -- a white Rolls Royce Silver Cloud with its own phone and hot plate the most notable -- he attracted a lot of very welcome attention at clubs. It was at one in North Beach where he got his name Darondo.
"I was a player," he told Alec Palao in 2011. "The waitress there, I'd always take care of her, tip her maybe $20, so that when I came in she'd grab me a good table. Every five minutes she'd be around, 'You need anything? You alright?'. She would take care of me like a prince and when people would ask, 'Who is that there who got all the cash?' she'd tell them, 'Daron-dough!'."
So Darondo he was when became serious about music again and -- with local pianist Al Tanner translating his ideas into music charts -- he came back as an Al Green-styled soul singer, but with a more rough edge.
With producer Ray Dobard of the Music City Recording Studio at the desk, Darondo cut some songs in '73 (all co-writes with Tanner) after some minor attention for his self-produced single How I Got Over b/w I Want Your Love So Bad.
Dobard had been impressed enough by those two songs to invite Darondo down to his studio and the subsequent songs confirmed his good opinion. An album was inevitable . . . but first out of the gate was the single Listen to My Song b/w Didn't I, both sides of which -- ballads so not especially indicative of his scope -- scored local airplay.
So far, so . . .
As he sings in The Wolf which went unreleased for decades, "then the weather changed, the people got cold".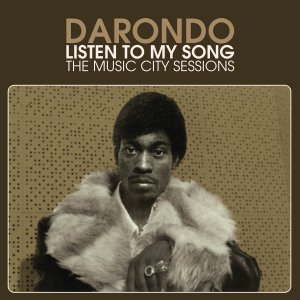 According to Darondo the first cracks appeared when producer Dobard re-pressed the single after good sales and secretly looked for another label to pick it up.
Delays in getting the album out (Darondo noting Dobard bought a brand new Eldorado) lead him to hire an attorney to go through Music City's accounts, some threats of violence against the producer (outlined in Dobard's written affadavit which today Darondo doesn't exactly deny) and all the master tapes of the intended album being locked away . . . until 2011 when archivist Palao retrieved and remixed them for the album Listen to My Song; The Music City Sessions.
Back in the day however after lawyers' letters, Darondo kissed the sessions goodbye ("I got to keep moving forward and I couldn't let that slow me down") and on his own label recorded Legs Part I which seemed to enhance whatever notoriety as a player he might have had.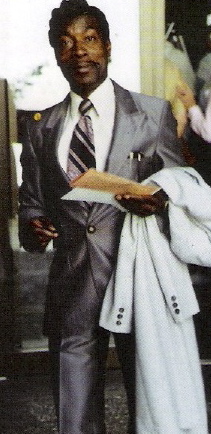 "All that stuff they talk about, all that pimping, ain't none of that true," he told Palao. "Like they say, don't judge a book by its cover.
"Here's a guy in a white Rolls Royce, wearing a mink coat, diamond rings, riding around with a whole lot of women . . .
"I knew a lot of women and a lot of them were my partners.
"That was my thang . . ."
In the early Eighties he moved into local television as an early VeeJay, then had his own show Dorando's Penthouse After Dark which played early video clips -- "U2, Bruce Springsteen, I was playing everyone" -- but what with the stress and lifestyle . . .
He had a nervous breakdown; travelled to Hawaii, London and Paris; entertained on cruise ships (mistaken for Little Richard apparently), went back to the Bay Area and started therapeutic massage using -- ahead of his time - music as part of his treatment.
Darondo's life -- many ups and a few downs -- is the stuff you can't make up.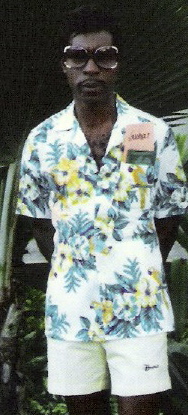 Darondo died in June 2013, aged 66 . . . or 67 depending on where you read about him. His star had started to rise in the last few years of his life when some of his songs appeared in Breaking Bad.
But what he did back on those Music City Sessions is of most interest.
The reissued album is a sassy and precient mix of soul-funk; pre-disco (strings and a backbeat on Luscious Lady and Do You Really Love Me, the latter with flute!); Sly Stone cross-racial funk; soulful Chi-Lites (I'm Lonely); streetcorner bell-bottom soul (Get Up Off Your Butt) where his rhythm-driven songs are embellished by snappy horns (I'm Gonna Love You); harmonica blues-soul . . .
And damned if that single Didn't I isn't pure Philly soul from California. It's the song that appeared in Breaking Bad on the Bonobo LateNightTales collection.
On the exceptional King's Man -- a bluesy thang driven by harmonica, a chopping rhythm section which might appeal to Long Train Running/Doobie Brothers fans and where he has that same vocal style as Tom Petty -- he opens with a line which might sum it all up: "You don't know me, but you think you do . . ."
Better late than never, this Darondo album Listen to my Song out of the vaults is a real ear-opener.
You might not know him, but the terrific musical evidence suggests you probably should do.
For other articles in the series of strange characters in music, WE NEED TO TALK ABOUT . . . go here.
.