Graham Reid | | 2 min read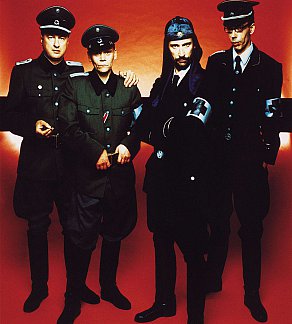 Out of the old Yugoslavia in the early Eighties they came, their industrial sound grinding like tank tracks across the earwaves of Europe, their look unacceptably miltaristic, their irony bludgeoning all before them into submission.
Laibach - who took the name from the German version of their hometown Ljubljana -- were a four-piece band like no other. They brandished slogans and wore uniforms which were like old school Nazi chic, they delivered a sound that was thumping techno-meets-industrial, and they bewildered most who could only see the image and not the irony.
No band could seriously say, "Politics is the honest all-embracing art and we who create Slovenian Art, we consider ourselves to be politicians".
If Pere Ubu were the sound of things falling apart, Laibach delivered the sound of an industrial wasteland being destroyed. Back home they were often booed and abused, then banned from using their name and performing in public (the ban was lifted some years later).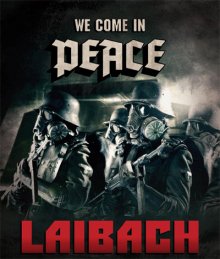 Formed in '80 as an arts project, they first appeared on the radar of Westen rock media when on the Occupied Europe Tour in '85.
Despite their name and the uniforms, their cover art was closer to that of Jon Heartfield, a prominent anti-Nazi collage artist in the Thirties and Forties. They used the imagery of fascist and socialist art to subvert and, as with Crass in Britain who adapted a swastika design for their own purposes, Laibach also used twists on familiar symbols.
On their own label SHUC (Student Cultural Centre Slovenia) they issued their debut album which included tracks with titles like Power, Battles, State, Decree, We Are Creating the Future . . .
But it was their musical attack -- martial rhythms, strident vocals, militaristic horns -- which was so remarkable. Talk about "the sound of marching charging feet, boy", this was a bunch of street fighting men roped into military service, given the weapons and an ethos, then let loose. It was unnerving, but of course ironic.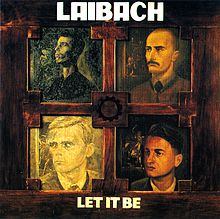 Their intentions became more clear over time when they actually covered the Stones' Sympathy for the Devil, then in '88 delivered a militaristic take on the Beatles' Let It be album (the whole album, except for the title track, Maggie May replaced by a German folk song).
Len Brown in NME, reviewng Laibach's Let It Be noted they carry these songs "to Hell and back", that the Long and Windng Road became a battleground between Good and Evil and that "the stamping jackboots and Germanic belches" were never far away on Across the Universe.
Paul Oldfield in Melody Maker said, "Laibach's triumphal beat and massed choirs, their exaltation of might and purpose, sound more like the jackbooted juggernaut of production, not seduction."
You get the picture . . . and you can hear their version of Get Back at From the Vaults here.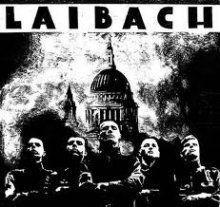 Although deliberately and utterly joyless, McCartney clearly liked it -- or at least got the humour -- as he used music from it to open some concerts.
With a changing line-up, work in theatre, ironic covers in English and some of their ideas being mainstreamed by the likes of German metallers Rammstein, Laibach are perhaps not as difficult a proposition today and they once were.
Actually, that's not true.
Their music is always difficult listening, just like fascism will always be unacceptable no matter how you dress it up.
For other articles in the series of strange characters in music, WE NEED TO TALK ABOUT . . . go here.