Graham Reid | | 3 min read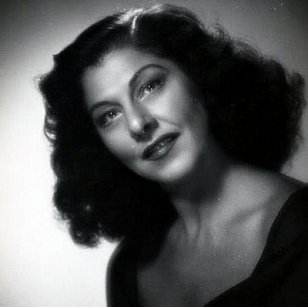 When they found singer Libby Holman dead in her Rolls Royce of carbon monoxide poisoning in 1971, her suicide brought an end to a life marked by scandal, sexual promiscuity, one dead husband and a murder trial, overt bisexuality, the death of a son, depression . . . and some pretty steamy blues songs, although among her repertoire was the uncharacteristically domestic Cooking Breakfast for the One I Love.
Holman -- born in Ohio in 1904 -- had been one of the more suggestive singers in the Twenties and Thirties and her breakthrough came in a theatre production when she sang Moanin' Low which she later recorded. In her performance she acted the part of a prostitute beaten by her pimp.
Scandalous, and many thought -- because of her dark hair and exotic looks -- that she was black.
With her husky voice at the bottom end of her range which had a kind of lived-in quality, she certainly sounded like a black blues singer and she sang numerous songs from that end of the spectrum.
She was however a regular in Broadway productions and her own show in '54 -- after any years absence because of scandals -- was entitled Blues, Ballads and Sin-Songs to capitalise on her earlier reputation as a dark lady whose life would be stuff of tabloids today.
She was always attracted to younger men and one of them was the bisexual Montgomery Clift, many years her junior. When she learned he was being offered the male lead in Sunset Boulevard -- as the young man on the arm of fading old star played by Gloria Swanson -- she threatened to commit suicide if he took the part.
Art was imitating life, perhaps?
Her insecurity was understandable perhaps, given what she had been through by that time.
She had married 20-year old Zachary Reynolds, a fan and heir to a tobacco fortune, in '31 but it was an unhappy relationship: she was Jewish from the liberal and outre world of theatre (she'd been encouraged in the marriage by her longtime friend and former lover Louisa d'Andelot Carpenter, one of the filthy rich Du Pont family) and he from w wealthy and conservative family.
The following year -- at a party when she, drunk, announced to Reynolds she was pregnant -- there was an argument and a gun shot which left Reynolds fatally wounded in the head. The police thought it suicide but an enquiry thought otherwise. Scandal followed when Holman was accompanied from court by Carpenter who dressed as a man.
No one can be sure what happened -- there were suggestions her husband's friend Ab Walker, arrested with her, had been her lover -- but the following year a film Sing, Sinner, Sing appeared and was loosely based on the incident. Holman rode out the scandal (there was another film Reckless in '35) but things were never quite the same and although she enjoyed something of a comeback in the Fifties, the years before then were equally troubled.
Her second husband -- 12 years younger, they married in '39 -- was the younger brother of a man she had been dating (who was killed in an aircraft crash in the Second World War) and when he returned from combat in '45 they split up. He committed suicide three months later.
One of her sons was killed in a mountain climbing accident in '50, she became an early civil rights activist having suffered from anti-Semitism and was friends with Martin Luther King. She was distraught when he was murdered in '68, just as she had been when Montgomery Clift died two years previous.
She fell into deep depressions and was now too old -- and from a distant era -- to sing the blues as she had earned the right to do.
Holman's style in her heyday was high but tinged with darkness and her most interesting period wasn't the saucy material of her youth but when she came back in the Forties and performed with blues singer/guitarist Josh White. They were the first mixed-race woman-man couple to try to do so. They ran into prejudice repeatedly.
Among the passing parade of fascinating characters in her life were Dorothy Parker and Tallulah Bankhead, and later Jane and Paul Bowles (he the famous writer). She holidayed with them in Tangiers, they with her in the US, and in '58 she commissioned him to write an opera for her. It premiered in Denver -- hardly the home of opera -- and wasn't well received.
Her forte however was the blues which she studied and immersed herself in emotionally. She wasn't the only Jewish woman to ever sing the blues, but her courage in not doing it black-face, taking on White as her teacher and then touring with him, set her apart and -- in time you would hope -- that might be her story.
Not the sex, the gunshot and the scandal, interesting though they are.
For other articles in the series of strange characters in music, WE NEED TO TALK ABOUT . . . go here.