Graham Reid | | 4 min read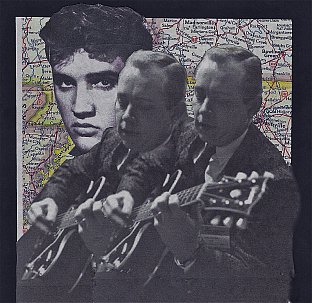 When guitarist Hank Garland's '59 Chev station wagon spun out on a road in Tennessee and hammered into a tree in September 1961 it left him unconscious in hospital for weeks.
And although he recovered and lived another 43 years he never went back to work . . . but what a career he'd had since he'd arrived in Nashville as a precociously gifted teenager 13 years before the crash.
At the time of the accident he'd spent three years playing on sessions for Elvis, Roy Orbison, the Everly Brothers, Patsy Cline, Marty Robbins, Ronnie Hawkins and many others.
He'd also crossed over from pop and country into jazz and recorded an album – Jazz Winds from a New Direction for Columbia, the first jazz album recorded in Nashville -- with Joe Morello (Brubeck's quartet drummer), bassist Joe Benjamin and vibes player Gary Burton.
He helped design a guitar for Gibson.
He was known for his speed and assured attack (he'd been discovered as 14-year old playing as a guest at the Grand Ole Opry) and counted among his admirers Chet Atkins who considered him the best of the Nashville session players.
Yet for all that, Hank Garland (known as Sugarfoot after his huge '48 instrumental hit Sugar Foot Rag) barely rates a mention in music encyclopedias. If any.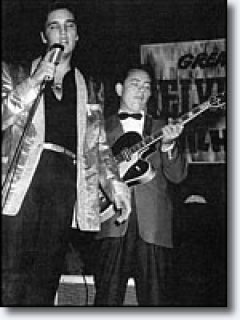 He's not there in any on Elsewhere's creaking shelves and even in Peter Guralnick's massive two-part biography of Elvis (Last Train To Memphis and Careless Love) he gets scant references: Down to these comments in fact: "guitar virtuoso"; "Garland could really play but he didn't hit that intro the way Scotty [Moore] did" on Don't Be Cruel at a live concert in late '57; and as one of the "top Nashville players" on sessions a year later . . .
That's about it, except for this about a Presley concert in Hawaii in early '61.
"Even with the poorest home recorder-quality sound, you only have to listen to the tape of the performance that has survived to sense the energy that was coming off the stage . . . again and again [Elvis] urges guitarist Hank Garland to solo, indicating his appreciation with grunts and exclamations that have nothing to do with the audience . . . [according] to Jordanaire [vocalist] Gordon Stoker, who had worked with Elvis steadily since 1956, there was a spontaneity to [Presley's] performance that most closely resembled a man being let out of jail".
So who was this Hank Garland and why is everyone not talking about hi?
Well, maybe one reason was that he was an irascible character, prone to bouts of angry boozing, kept a jealous eye on his wife (when his car crashed he was racing after her because he thought she'd taken the kids and left) and by some accounts let his early success – he was just 19 when Sugar Foot Rag sold a million – go to his head.
He's certainly not portrayed as an entirely sympathetic character in the '08 bio-pix Crazy.
However famed Nashville guitarist player Harold Bradley – with whom Garland worked – counted him a close personal friend and a nice guy.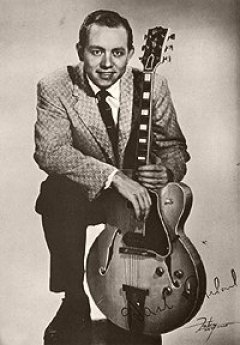 Whatever he was like as a person, no one casts doubt on his talent.
"He's one of the most talented musicians I have encountered in my career," said Gary Burton. "His obvious enthusiasm for whatever music he was playing was inspiring to everyone around him. I've always thought that was one of the reasons he was so popular in Nashville and why everyone wanted Hank to be on their sessions.
"His very presence seemed to create a buzz among the musicians, whether it was country, rock, or jazz."
Hank Garland – born Walter Louis Garland in exotically-named Cowpens, South Carolina in November 1930 – began playing on a cheap guitar as kid and taking lessons from a neighbour. But as with even famed players in Nashville, he quickly flew past and teachers or peers, and when he arrived in Nashville for a guest spot at the Opry he was just 14.
He impressed everyone . . . but was too young to work legally so went home, honed his craft and returned when he was 16. He tried to get session work but struggled, then everything changed with Sugar Foot Rag. There were two version recorded, one with Red Foley on vocals and the other the furiously fast instrumental version.
After that he was picking up plenty of session work (that's him on Patsy Cline's I Fall to Pieces), on the road constantly and could slip effortlessly from country and pop to the jazz that he loved.
Three-Four, The Blues, from Jazz Winds From A New Direction
For Elvis he played bass on Soldier Boy, Stuck On You, A Mess of Blues and other songs from Nashville sessions in March '60 (alongside guitarist Scotty Moore, upright bassist Bob Moore, pianist Floyd Cramer and drummer JD Fontana). He played guitar on Fever, It's Now or Never, Dirty Dirty Feeling, Are You Lonesome Tonight, Reconsider Baby and other songs from sessions the following month. All very different in style and feel.
He had also been on Elvis' Hound Dog, A Fool Such As I, Surrender, His Latest Flame, Little Sister and others; Webb Pierce's hit In the Jailhouse Now and Bobby Helm's Jingle Bell Rock. He was used by famed Nashville producer Owen Bradley, recorded with Jerry Lee Lewis, Charlie Rich . . .
He was working with Presley on songs for the soundtrack to Follow That Dream when the accident happened.
And in every meaningful way that was the end of Hank Garland.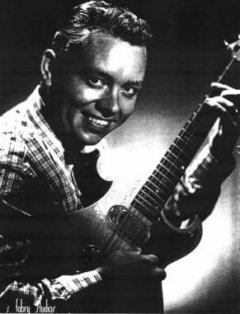 He apparently had over 100 treatments of electro-shock therapy in the hospital . . . and that alone would do anyone in.
After the accident Garland tried to play his way back but he was a damaged man. Johnny Cash brought him in for some sessions but the recordings were not released.
He moved to Florida and lived quietly until his death two days after Christmas in 2004.
He was admired by his peers, he was inducted into the Hollywood Rock Walk of Fame in '97 (his handprints are outside the famous Guitar Centre on Sunset Boulevard) and although Presley once said he didn't have the feel, at another time he introduced him as "one of the finest guitar players in the country".
And the King could pick whomever he wanted.
He – and many others – chose this man.
And that's why we need to talk about Hank Garland.
For other articles in the series of strange, sad or interesting characters in music, WE NEED TO TALK ABOUT . . . go here.