Graham Reid | | 3 min read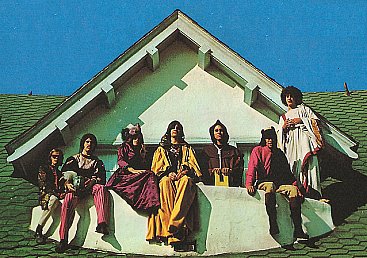 Let's throw around the names of a few fans of this band out of California in the late Sixties.
First we might mention Jim Morrison of the Doors who "discovered" them.
And famous producer Lou Adler was so keen that he signed them to his Ode label.
They were also in-house artists at the Bliss production company formed by John Densmore and Robbie Krieger of the Doors who produced the Chair's sole, self-titled album.
Unfortunately that seems to have been almost the extent of the band's fanbase and career.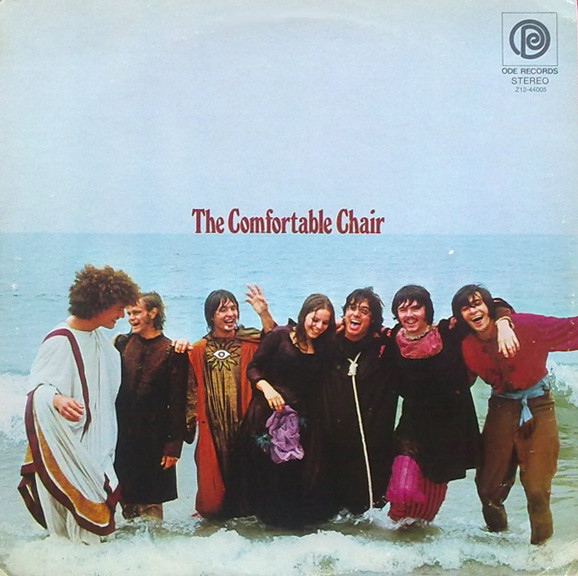 That 1968 album by this seven-piece was built around their own songwriters, notably Bernie Schwartz who wrote or co-wrote nine of the 12 recorded songs. It came out at the end of 1968 and although it picked up a few decent notices not enough for it to sell.
Not even an appearance in the Jackie Gleason/Bob Hope movie How to Commit Marriage helped: they were the groovy hippie-folk band in that weak comedy about marriage Vs living together, divorce . . and which came with a smattering of period-piece guru/mysticism. There are nine on-stage in this clip, two ring-ins being actors from the film, and they weren't "number one on the charts" as the MC says..
Article continues below the clip
But even a cursory listen to that piece tells you they were onto something in the Jefferson Airplane/The Mamas and the Papas/proto folk-rock genre.
The folk element is more to the fore in this sequence, also from the film
Article continues below the clip
Both of those songs are slightly edited versions of the songs as they appeared on the Chair's album which is, we are told, quite a collector's item these days. (Elsewhere's copy rather spoiled by a huge sticker across the cover from the Columbia Records Radio Station Service)
But it is on Spotify, although oddly they have a different cover image, another album title (Psychedelic Folk Essentials) and odd running order of the songs.
The band were Bernie Schwartz and Barbara Baczek-Wallace (lead vocalists), Gene Garfin (woodwinds, percussion, vocals), Greg LeRoy (bass and "blues guitar lead"), Warner Davis (percussion), Tad Baczek (guitar) and Gary Davis (keys).
From our brief research only Schwartz had much of a music career.
Before the short-lived Chair (after which he had a solo album The Wheel, on Spotify here) he had recorded under numerous pseudonyms (one source mentions Don Atello and Bernie Ballentine) and it seems he enjoyed a long collaboration with the Everly Brothers in the early Sixties. He also had an association with the acclaimed songwriter Sharon Sheeley (Ricky Nelson, Glen Campbell, she was Eddie Cochran's fiancé and was in the car with him when he was killed in Britain).
As the times changed so did Schwartz who got into raga-folk (under the name Adrian Pride) and then formed The Comfortable Chair.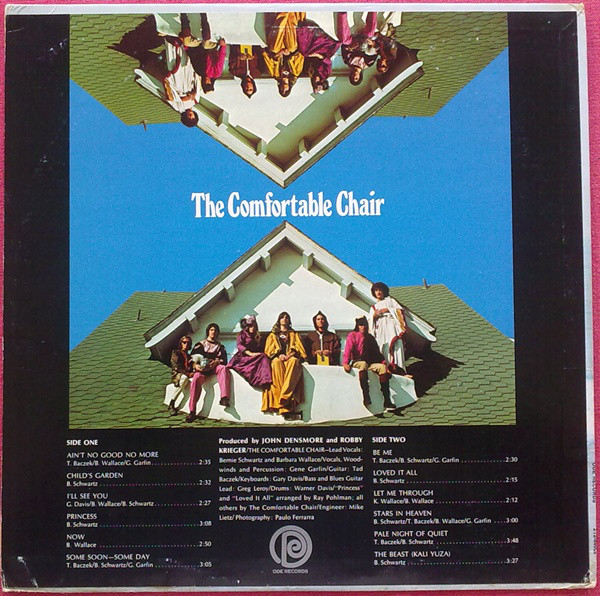 So he had considerable experience and writing skills, evident all across the album which, in a world full of "lost classic" albums, is well worth checking out.
With an artillery of instruments at their command, the Chair were comfortable with psyched-out pop-rock (nothing here is longer 3.30, each side of the record times at just 16.34 and 17.49) and didn't shy from the mystical.
For example "I see so many heavens, which one will it be?" on Ain't No Good No More.
There's some enjoyable, innocent and earnest pastoralism (Child's Garden, Princess, Now) but perhaps a bit too much and the Chair really come to life when they wig out in a more taut electric folk style, some of which you think could have flipped over to radio at the time (I'll See You, Be Me) which was embracing this style.
But the roadside is littered with casualties and the Comfortable Chair – whose publishing company was Transcendental Music – were one of them.
Let's hope they were well paid for that film appearance.
Bob Hope's older audience probably thought the band looked ridiculous, but with his comb-over and Nehru jacket he looks worse.
You can hear the Comfortable Chair on Spotify here.
For other articles in the series of strange or different characters in music, WE NEED TO TALK ABOUT . . . go here.