Graham Reid | | <1 min read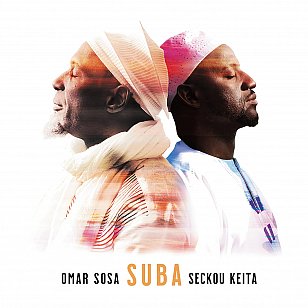 Regular visitors to Elsewhere will know of our affection for the multi-stringed kora out of West Africa, and the player here Seckou Keita.
On their second album together Keita and Cuban keyboard/marimba player Omar Sosa (with Cuban percussionist Gustavo Ovalles, others on flutes and modular effects) bridge the Atlantic with a series of mostly reflective and understated songs with lean left into chamber jazz (KoraSon with cello), err towards very classy dreamy ambient-pop (Drops of Sunrise) and top-shelf New Age (Voices on the Sea), and carefully judged duets between the main players (Gniri Balma).
With lyrics which (albeit incomprehensible to most us) offer hope, reconciliation and unity in the post-Covid world, Suba is the kind of album you'd expect to top global music charts and, for those lucky enough to come across it, find a place in the heart.
Truly a delight.
.
You can hear this album at Spotify here