Graham Reid | | 1 min read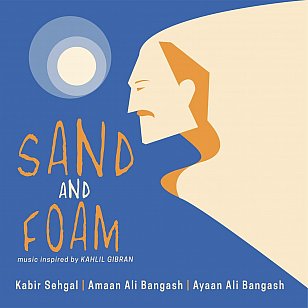 In the excellent liner essay accompanying the current Joseph Petric album Seen, Nick Storring writes about how in the past two decades (this writer would argue longer) the paradigms of genre division have been reframed and old principles have been eroded as artists work with cross-pollinations of musical ideas from a broad spectrum.
So it is here where young, award-winning sarod masters Amman Ali and Ayaan Ali Bangash – the seventh generation of sarod players in their family – are alongside Grammy-winning producer Kabir Sehgal with guest vocalists Claudia Acuna, Sudha Raghunanthan and Malini Aswathi, rapper Caliph plus saxophonists Tivon Pennicot and Israeli Oran Etkins.
Quite the global village, and making music inspired by the works of Lebanese writer/philosopher-poet Kahlil Gibran.
The result is quite a melange of gently hypnotic melodies which are at their most approachable on the slippery title track and the subtle shuffling Indojazz-lite Jaipur Festival.
Saxophone and sarod have always seemed a natural paring from as far back as John Handy and Ali Akbar Khan's gorgeous Karuna Supreme in the mid-Seventies and this album confirms that impression from the swirling instrumental opener The Wanderer (which ends all too soon) to the Carnatic vocals of Raghunanathan on the six minute-plus closer A Tear and a Smile which heads into the spiritual sky.
The brevity of most of these pieces – only two running more than four minutes – curtails more free flowing improvisation. But that pop-sized economy should also ensure easy entry level for the casual and the curious.
.
You can hear this album at Spotify here