Graham Reid | | <1 min read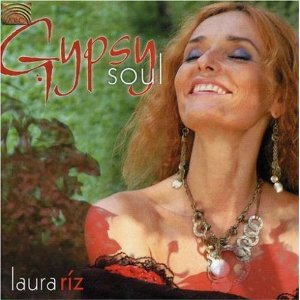 Look, I have absoluely no doubt that singer Riz -- who was previously a fashion choreographer and director who sang light jazz and bossa nova -- makes music as authentically "Gypsy" as Enya makes authentically "Irish" music.
And she doesn't help her case by the dreadfully cheap cover on this album, nor by liner notes in which she talks about her "research" into Gypsy culture which confirmed it came from Vedic culture in the Indus Valley.
But . . . she has certainly played and sung Gypsy music for years (my guess is pop-Gypsy in clubs rather than cornfields) and this album has a kind of exotic and gutteral persuasiveness, and of course is saturated in high emotions and swooning melodies.
The songs are drawn from Hungarian, Russian and Czech sources, but also from Seville and Greece.
Garth Cartwright who wrote the definitive travel/musicology book about this culture Princes Amongst Men would doubtless scoff at this album -- and perhaps rightly so. But that doesn't change its genuine appeal.
Take it for what it is -- Gypsy music polished up -- and it is actually quite something.