Graham Reid | | 1 min read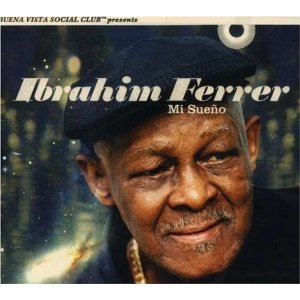 Knowing that these were the final sessions by the late Buena Vista Social Club's star singer means that perhaps many will cast a more sympathetic ear over them than they might have otherwise. And let's be honest the other "final session" thing -- his duet with Omara Portuondo on As Time Goes By which appeared on the Rhythms Del Mundo album recently -- was dodgy if not downright awful.
But this album was clearly a passion for Ferrer -- a collection of unashamedly romantic songs in the bolero style -- and on hand were great musicians such as guest pianist Ruben Gonzalez, guitarist Manuel Galban and Portuondo again, in addition to a small core band.
Entitled My Dream, the album is no cobbled together cash-in collection, this was the album that was always intended and in the growth industry that became the BVSC, it stands among the better releases.
There is something poignant in hearing this voice -- now relying on history, and some intuitive vocal devices and projection -- taking on these songs and bringing to them great dignity and passion.
Years ago I saw what I was later told was the final public performance by the great Latin composer/singer Antonio Carlos Jobim and he performed a profoundly moving version of his classic song Girl From Ipanema. (See tag) Of course as an old man the song was now invested with utterly different resonance: the recognition that the beauty which passes him by then will now always be unattainable.
It was an exceptional performance, and much of this Ferrer album reminds me of that moment: here is a reminder that love is not just the province of the young; that it manifests itself in different ways as we age; and that love of life can be more powerful and poignant when we have a fragile grip on it.
So no, you don't need to give Ferrer a few points just because this is a posthumous release.
This is a lovely, heartfelt and quite enchanting album. .