Graham Reid | | <1 min read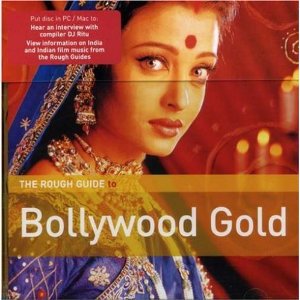 More scholarly heads than mine would able to discuss whether this 15-track collection is a fair reflection of the Bollywood scene: but it certainly contains the big names like Asha Bhosle (two tracks) and Lata Mangeshkar (two also) who have probably recorded over 50,000 songs between them, Mukesh ("The Man With The Golden Voice") and Mohammed Rafi.
So the name players are all here: and what of the selection?
Well, it's pretty mad stuff: there is ear-splitting Indo-pop which Jolly Mukherjee and Sridevi kick off in fine style with the giggling and irritatingly addictive Chandni, there is yodelling (it was Kishore Kumar's trademark), string sections on speed, things that sound like a drunken uncle on the karaoke machine at a family wedding, intoxicatingly beautiful love songs (Bhosle coming into her own) and much more.
There is also terrific early 60s guitar rock (Wipeout-meets-The Twist), some nice instrumental passages, and songs from classic films such as Pakeezah. Complied by BBC presenter, DJ, nightclub manager and musician DJ Ritu this comes with typically good notes (a feature of the Rough Guide series) and seems to cover all the bases . . . and then some.
If you only buy one Bollywood compilation this week . . .