Graham Reid | | <1 min read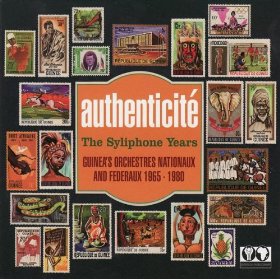 In a beautiful sleeve featuring stamps from Guinea and with an informative booklet, this double disc collection takes you to the heart of music from this small African state (population about 10 million) and includes material by the very famous Bembeya Jazz National and their peers on the Syliphone label.
It seems when Guinea became indepent from Fance in '58 the government encouraged the arts and each region of the country (there were over 30) was represented by artistic troupes of an orchestra (basically a big jazzy band), a traditional music ensemble, a choir and a theatrical group.
The government bought the instruments and encouraged them to sing about anti-imperialism, colonialism and independence. All of which sounds like state dogma set to music, but most of us have the advantage of not understanding a word of these lively songs. We get to go with the groove.
Those who like Cuban music will find much to delight in here as the horns punch in -- but it is that trickling guitar sound everywhere which is utterly seductive.
An excellent compilation which will warm up the coldest days.