Graham Reid | | 1 min read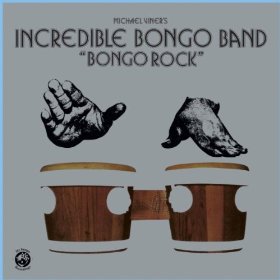 Formed in the early 70s by record company exec and musician Michael Viner with composer Perry Botkin Jnr, the Incredible Bongo Band was an informal gaggle of musicians who got together to capitalise on a one-off single lifted from the soundtrack to the B-movie The Thing With Two Heads.
Recording in Canada because it was cheap and they would get automatic airplay because of Candian content, the band -- which included drummer Jim Gordon (Traffic, Derek and the Dominoes) -- knocked off an album of mostly bongo-driven and horn-heavy tracks in a few days, and it sold pretty well.
They repeated the trick in LA and stars dropped by to sit in, including Ringo, Harry Nilsson, Glenn Campbell, drummer Hal Blaine, and John Lennon who did some mixing.
Sessions were loose and not entirely sober. Plans to record the William Tell Overture with the London Symphony fell through.
The Incredible Bongo Band, such as it was, broke up -- but out there in the Bronx . . .
Hip-hoppers sampled their albums extensively (eg. Sugarhill Gang's Apache Rap lifts from Apache off the first Bongo Band album).
Here are their two albums on one disc -- and there is a terrific kitschy 70s soundtrack feel to most of this. They cover Satisfaction, Raunchy, In-A-Gadda-Da-Vida, Pipeline and Wipeout but also have some hilariously titled originals: Last Bongo in Belgium (which appears in a lengthy remix), Dueling Bongos, When the Bed Breaks I'll Meet You in the Spring, and Hang Down Your Head Tom Dolley Your Tie is Caught in Your Zipper. Apache appears again in the seven-minute Grand Master Flash remix.
Retro fun which will have you thinking of blaxploitation flicks and bellbottoms.