Graham Reid | | <1 min read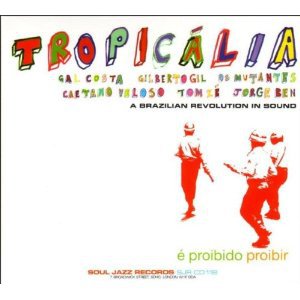 Don't know about you, but all that cooler-than-thou, soft-voice badha-badha-doobee-doo stuff from Brazil (Bebe Gilberto et al) gets right up my nose. It seems to be favoured by "sophisticated" people and such soft samba seemed obligatory as the theme to any arts show on television for decades.
My turning point into Brazilian music was in 1990 when David Byrne (of Talking Heads) released an album by Tom Ze on his own Luaka Bop label.
Ze was just bizarre -- he played household equipment among other things -- and his music seemed to owe almost nothing to all the cliches of Brazilian music that I had assimilated.
Then I learned he was part of the Tropicalismo/Tropicalia movement in late 60s.
This was psychedelic rock, Beatlesque pop and soundtrack-influenced music which was politicised and sometimes bristling with rage, avant-garde and angular, and utterly compelling.
Big names in the Tropicalia movement were Ze, Caetano Veloso, Gilberto Gil and the band Os Mutantes -- all of whom appear on this essential collection which comes with an excellent and informative 54-page booklet outlining the historical background, and how it was crushed by the military after one spectacular year, 1968.
It is a great story -- and the music is vibrant, unusual, exciting and utterly unpredictable. Believe me, one taste of just how good/disturbed/bent and trippy this stuff is and you will never go back to Bebe Gilberto and all that badha-bahda, no matter how "sophisticated" it might seem.