Graham Reid | | <1 min read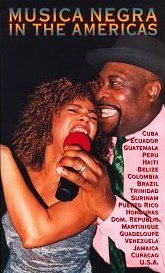 Some years ago the estimable Network label released the groundbreaking Desert Blues collection of music from the Sahara region, a superb double disc in a beautiful and informative long-form package.
This re-release of the similarly conceived collection of the music of the various slavery cultures of the Americas is its equal: two discs of 33 tracks which is a geographical tour-de-force as much as guide through numerous vibrant rhythms and songs from the Mississippi Delta (Big Mama Thorton with Muddy Waters) through the Caribbean (Cuba, Haiti, the Congos' glorious Fisherman representing Jamaica) and into Central America, small regional musics (the coastal Garifuna style -- see Andy Palacio tag) and through Peru, Brazil and so on.
So here are exciting tracks by some names which may be slightly familiar to Elsewhere listeners (Palacio from Belize, Susana Baca from Peru, the Abyssinians from Jamaica) but mostly offers the delights of the unfamiliar: music from Suriname, Curacao, Guadeloupe . . .
With just a track or two from each country there is a danger that this could lose the thread, but as with their Sahara collection (and the Sufi Soul set), the compilers are people who really know their stuff and one track flows seamlessly into the next.
A terrific, colourfully presented double set (with an essay and historical notes on each artist, country and style) which will constantly surprise, delight and illuminate.
Party on.