Graham Reid | | <1 min read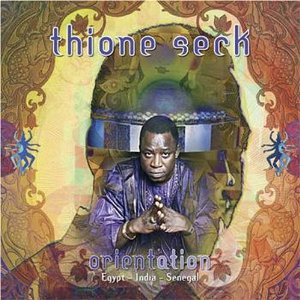 There are some who think that "world music" is corrupted by outside influences, and that the folk musicians of various parts of the globe should be time-locked so as to retain some degree of authenticity.
Such paternalistic purists bang on about how tragic it is that musicians from the Sahara use synthesizers, or that sitar players in India tailor their ragas for radio play rather than exploring pieces that last 45 minutes.
Such matters rarely trouble the musicians themselves fortunately who simply ignore the ethnomusicologists from universities and just get on playing their music. Just as African musicians gave America the blues, so too did they learn from James Brown, Bob Marley and hip-hop.
Cuban music is big right across Central Africa -- and has been for more than five decades.
World music is increasingly being given a global audience (and marketplace) so inevitably the musicians listen more widely than just to their elders, village or local radio station.
Singer Thione Seck from Senegal knows all about the songline between Cuba and West Africa, but here explores its equal and geographical opposite: he teams up with musicians from Egypt and India.
It makes for heady and exotic concoction which is grounded in his own traditions but comes coloured with oud, veena, chiming zither, coiling flutes, stabbing violins and a chorus of backing vocalists.
This project -- more than a decade in the making -- is exciting and innovative, although I guess some folk might have a problem knowing where to file it on their shelves.