Graham Reid | | <1 min read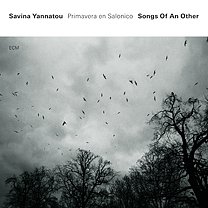 Not going to lie to you: this one isn't easy and certainly won't be to everyone's taste -- but I guess you have to expect that when a Greek singer takes on Armenia, Bulgarian, Albania etc folk in the company of a group which includes oud, guitar, accordion, double bass and nay (Egyptian flute).
Oh, and it is on the ECM jazz label -- so there's a bit of stretching out into free jazz in places, and some vocalising of the kind you'd be more likely to hear in some arthouse concert.
Okay, all that aside . . .
Yannatou has a voice that aches with a rare passion and although you won't have clue what she is singing about this is a three-hankie weepie.
This could be folk or world music-jazz, but whatever it is there is much that is compelling about it and while the improvised sections take the focus away from that remarkable voice (she hints at Yoko in one place) that too is the appeal of this - for those up to a challenge.