Graham Reid | | 1 min read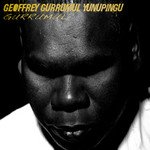 Funny how music can pounce on you, isn't it?
A couple of weeks ago I would have said I had never heard of this blind-from-birth Aboriginal singer from Arnhemland. Then a week ago I mentioned the new-look Elsewhere on another website and invited people to check it and use the search function: the first response I got was from someone who said they had looked for "Geoffrey Gurrumul Yunupingu" and I had nothing by him so . . . harrumph.
Not to be outdone I went to The Rough Guide to Australian Aboriginal Music (a bit so-so actually) and found a track to post here. And as I listened to this extraordinary voice I suddenly remembered that I had heard his music on an Aboriginal radio station about three month back when I was driving in the Outback near Darwin. You don't forget this voice (although I seemed to have).
Then just last weekend we were staying at a beautiful lodge just outside Matakana north of Auckland (more on that in Travels at some time) and who should be playing quietly away as we enjoyed their wine?
All this - and the fact this media-shy singer-songwriter is up for a swag of Australian awards - tells you something.
Formerly a member of Yothu Yindi and more recently with his own Saltwater Band (now them I had heard of!), this young man known as Gudjuk has one of the most moving voices you could imagine - and of course given the devastation wrought on his people (which you can read about in the remarkable Why Warriors Lie Down and Die by Richard Trudgen) and his own personal circumstances, he has stories to tell which pull on the emotions.
Seldom has an album sung of so many tears, so much longing.
Recorded simply so his heart can speak directly, but with effective embellishment from double bass and harmony vocals, this one has a rare quality and call it folk, world music or whatever, it will move you like few others.
Quite exceptional.