Graham Reid | | <1 min read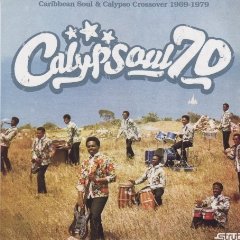 Although this compilation - subtitled Caribbean Soul and Calypso Crossover 1969-1979 - came out a few months back I thought I'd wait until the weather got better before posting it. It is that kind of music, and today after I cleaned the barbecue it seemed timely.
A 20 track collection of bands whose names are completely unknown to me - Magic Circle Express, Gemini Brass, St Maarten's The Rolling Tones anyone? - means you can simply bang it on and kick back while rubbing suntan lotion on your chest.
Every now and again you'll leap up to check the liner notes about the likes of the rum-infused horns on some track or want to know who that band is which has gone a little dubby on your head - but mostly this is groove-heavy escapism (although Lancelot Layne does define "the ghetto" for you in Yo Tink it Sorf?).
Summertime sounds from the summertime climes.