Graham Reid | | <1 min read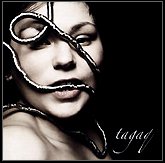 This remarkable Inuit throat singer and avant-vocalist came to my attention in Vancouver when I was reading a lengthy article about John Coltrane in a newspaper (my kinda paper) and she was profiled on the opposite page. The lines which leaped out were about her and her grandmother killing whales with their bare hands.

At first I took her to be someone untutored from a remote community but in fact she was tertiary educated and learned the technique pretty much on her ownsome.
No matter, she takes the style into contemporary avant-garde art music, is perhaps closer to Yoko Ono in orgasm/scream mode than some might like, and on this difficult but quite remarkable album she also includes a track produced by, and co-written with Bjork. Which makes sense.

So there, approximately, are your frames of reference.

Wonderful - but don't say you weren't warned.