Graham Reid | | <1 min read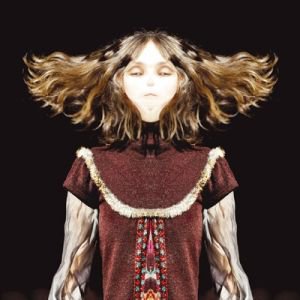 This singer-songwriter from Argentina will confound any expectations you might have of someone who was once a comedy actress and in skit-shows on local televsion.
This album with odd elements of percussion, repeated figures in the manner of folktronic minimalists, post-Tropicalia borrowings from Brazilian music, and a kind of urgency driven by percussion and a production that puts her somewhere back in the mix (unless she is whispering right in your ear) could be quite bewildering on a first hearing. Could be? Nope, it is.
But a couple of plays and even though you might not get a word of it (she favours her dialect from the Rio Plata region) the music is quite mesmerising. In one interview she mentioned being profoundly influenced by King Crimson's Larks Tongue in Aspic (excuse me if a I splutter, you may to after reading this) but she meant she liked music which had a grand sweep and a consistent tonal quality.
That is true of this album (although this is grand on an intimate scale, if you get my meaning) and while there are times you can get why some writers have connected her with Bjork, my feeling is those who enjoy Tropicalia, Tom Ze, some of the oddball David Byrne-compiled South American albums, the Penguin Cafe Orchestra, the Beta Band, Tunng and Lila Downs will find a lot here.
This is curiously small and detailed music. Intimate yet distant. And really good stuff.
The clip here is quite informative. Have a look/listen.