Graham Reid | | <1 min read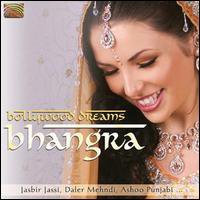 My guess is that if you are asked to do a Bollywood compilation you'd be somewhat spoiled for choice, right?
There are some thrilling Bollywood soundtrack albums and bhangra compilations out there (like Cash and Bollywood Gold), but this collection pulls right back from a soundclash between Indian orchestras and hip-hop and aims more for a considered and inclusive selection of trip-hop alongside rather more traditional sounds.
Over the full duration (which ebbs and flows from the seductive vocals of Rajeshwari Sachdev to the adrenalin-fuelled Daler Mehndi) this comes off more persuasive than a first hearing might suggest.
If flat-tack bhangra pop is your thing, this probably isn't for you (Urban Asia probably will be), but as an overview which represents some of the bigger names in the contemporary world it allows for the diversity in a way that other similar compilations don't. Sukhwinder Singh's sonic landscape of minimalist beats and almost threatening vocals on Daachi Valeya is the standout.
A mixed-bag sampler to be sampled -- and your ever-changing moods will doubtless determine which tracks/moods will appeal at any given time.