Graham Reid | | <1 min read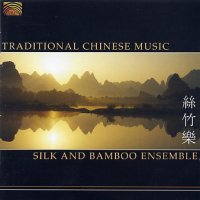 We have been down this seductive and often restful path a few times with the Silk String Quartet, the solo album by pipa/qin player Cheng Yu and the Taoist Music Orchestra of Shanghai -- but the traditional music of China can always halt you in your haste, and make you stop and smell the water lilies.
There are a couple of lively pieces here (there's a hoe-down in Dance of the Yao People, and Full of Joy is a toe-tapper) but with titles like Autumn Moon Over the Still Lake, Lament at Changmen Palace, Colourful Clouds Chasing the Moon and so on you can guess the over-arching mood.
The great Cheng Yu appears again, as does Chen Ducan (erhu) who notated for the Taoist Orchestra, so you are in good hands with this London-based ensemble when it comes to players versed in these traditions.
One to sit quietly with and sip green tea.