Graham Reid | | <1 min read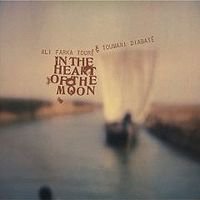 In world music circles Malian guitarist Toure and kora player Diabate, are acknowledged geniuses, and Toure's playing and sandpaper vocal style have drawn comparisons with Delta blues musicians.
He almost leapt to greater recognition with Talking Timbuktu a few years ago (with Buena Vista Social Club prime-mover Ry Cooder, in the background here with his percussionist son Joachim). But this instrumental album -- his first with Diabate -- looks like the one to finally do it.
With Diabate's trickling kora (a 21-string harp-like affair), this is a meeting of sympathetic minds where melodies interweave, the musicians gently cajole each other to greater invention, and yet the whole remains coherent as a dialogue between two very different musical voices.
Mamadou Boutiquier sounds like an Elizabethan lute player who has drifted up the Niger, and elsewhere there are what sound like country-style finger pickin' and subtle flamenco.
Pure magic.