Graham Reid | | <1 min read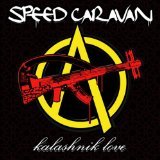 The sound of the oud, a Middle Eastern lute, has frequently found favour at Elsewhere, notably with Le Trio Joubran and Anouar Brahem, and albums like Cairo Nights.
But as the title of this album suggests, this is a very different kind of oud music: this is electric oud turned up loud and sounding abrasive, angry, politicised in the context . . . and closer to the Hendrix/Stevie Ray Vaughan axis and a child of post hip-hop culture than anything previously posted at Elsewhere.
There's also a fiercely electro-funk component from the band which sits behind the coiling vocals (mostly from various guests including Rachid Taha) and the searing oud of Algerian-born Mehdi Haddab. This is music which rocks and rages, and doubtless they will be one of the main attractions when they play the Taranaki Womad in March.
This is explosive stuff.
Interestingly they also do an urgently angry version of the old Cure song Killing An Arab (an incident taken from the Camus novel lest you think something else about it) and given who is singing it, the song takes on multiple and complex meanings. It also rocks.
Yes, something else.