Graham Reid | | <1 min read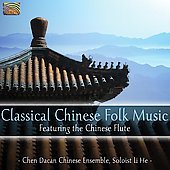 Elsewhere has frequently posted Chinese music, notably albums by the Silk and Bamboo Ensemble, the Silk String Quartet and the pipa/qin soloist Cheng Yu.
These are all lovely albums -- restful but also full of interesting melodic twists, so this ensemble which features the flute soloist Li He was bound to command attention.
The leader of the group, Chen Dacan, is a member of the Silk and Bamboo Ensemble, and notated the pieces on the album Chinese Taoist Music considered at Elsewhere as "not to everyone's taste . . . but quite elegant nonetheless".
Well, these nine pieces also won't find wide appeal, but they are in many places lively and evocative, and the rhythmic shifts (not to mention the bird-like or vigorous flute) can be quite diverting.
Yes, another minority interest album, but another one to drift away to.