Graham Reid | | <1 min read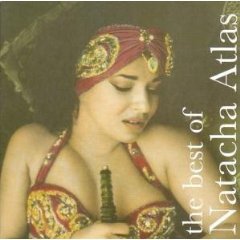 Atlas -- born in Belgium but with family links to Egyptian, Palestinian and Moroccan cultures -- is one the most thrilling contemporary voices of the Middle East crescent. She came to attention in the early 90s with Jah Wobble's Invaders of the Heart then the dance-electronica outfit TransGlobal Underground out of London.
Her solo career began with the Diaspora album in 95 and since then she has pursued her own path between traditional-sounding songs and dubby electronica with a hip-hop attitude. This 16 track collection draws from her solo albums to convincing trip-hop and often erotic effect.
Atlas brings in rappers (on the danceable Eye of the Duck) but is equally at home with a Egyptian string section (the mesmerising Ezzay). There are a couple of remixes here (she previously released a whole album of remixes) and it matters little whether she sings in French (Mon Amie La Rose), Arabic or English, her voice is a rare treasure. Terrific, except for the unnecessary version of You Only Live Twice.
And if you like the taste of this territory you should check out Malouma, The Rough Guide to North African Cafe, the Marabi Africa compilations and the other artists and compilations from the region which Elsewhere has posted.
Mesmerising.