Graham Reid | | <1 min read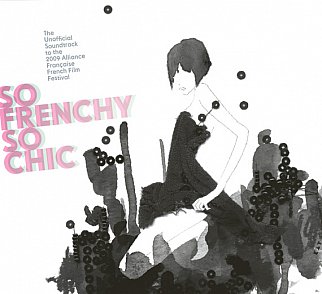 Billed as "the unofficial soundtrack to the French Film festival 2009" (and actually an Australian compilation so may bear absolutely no relation whatsoever to the French Film Festival we might have in New Zealand), this double disc scoops up such a wide swathe of breathy French pop, trip-hop, cool-kitsch and more that you can't help but like it.
The fact it opens with the terrific garageband/chic-hip 7 heures du mat by Jacqueline Taieb from '67 and includes artists like the quietly wonderful Barbara Carlotti, Melanie Pain of Nouvelle Vague (sort of Nancy Sinatra-meets-Neil Sedaka in Bjork's disco on Bruises), the Jose Gonzalez-like folk turn of Bense, Stella (with some cool dancefloor doo-pop from 1960) and so on means it covers a lot of Gallic bases with a wry sense of humour.
It isn't all in whispery French either: Meringue Alcohol and Us do a neat line in alt.indie pop on I Love The Way You Treat Me ("you're always late, you keep me waiting"), The Do have some whiny girly-pop (with an accordion) and Emily Loizeau switches from French to English and back in Sister. Jimmy is alt.country from the wide plains with lonely harmonica. Sporto Kantes' Concrete is very slinky, Feloche is just plain odd (with an accordion) and Rokia Traore is brilliantly minimal of the appropriately entitled Zen.
But mostly this is kinda cool, softly chic and lightly beguiling. No lager-madness rock music here, but plenty for poised pastis drinkers.