Graham Reid | | <1 min read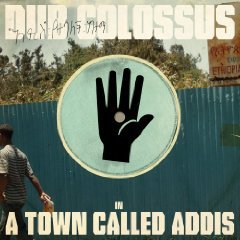 Bridging dub, world music, an ethnomusicology project and with a smattering of jazz, this project by UK musician/producer/remixer Nick Page who is Dubulah, aka Dub Colossus (and co-founder of the groundbreaking Trans-Global Underground then Temple of Sound) brings to attention the wonderful music of Ethiopia, but in a very different light.
Internationally there has been an on-going reissue project of late Sixties/early Seventies popular music from Ethiopia (the Ethiopiques imprint which hasn't been released in New Zealand) and that has put the spotlight on this exotic, evocative sounds.
Picking up on that lead Page went to Addis Ababa and recorded local musicians in a cheap room, brought the tracks back to the Real World studio and began layering in other sympathetic African voices and instrumentation (again mostly from African musicians but also Skip McDonald of Little Axe).
The result is an album that sounds fresh, international yet somehow specifically Ethiopian, sometimes transcendental and at other times earthy. The saxophone and piano parts scattered around also pull this more towards contemporary jazz in places
Diverse, unexpected and in every sense a "world music" project.