Graham Reid | | 1 min read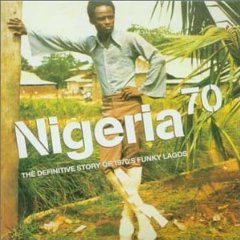 Elsewhere has already drawn attention to excellent West African compilations such as Heavy Heavy Heavy which scooped up the pre-Afrobeat of Geraldo Pino from Sierra Leone, and the double-disc collections High Life Time (Nigerian and Ghanaian music of the Sixties and early Seventies) and Lagos Baby (a wrap-up of Fela Anikulapo Kuti's early years, 1963-69).
Now comes this welcome reissue of a catch-all double set from 2001 which includes the name players out of Nigeria during this fertile period -- Fela with Africa 70, Tony Allen and his African Messengers, Gasper Lawal with the hit Kita Kita and King Sunny Ade with a seven minute instrumental version of the wonderful Ja Fun Mi which later turned up in another treatment on his his terrific '83 album Juju Music.
Then there are those lesser known characters who added breadth and depth to the scene : Monomono Tire (with the exceptionally gritty Loma Da Nigbehin, Tunji Oyelana, the funky-pop of Sir Victor Uwaifo and his Melody Maestroes, and The Quest by Afro Cult Foundation who take from what sounds like a New York jazz club in the late Fifties and bring it all home to steamy Lagos.
Nigerian musicians were often well travelled (London, the US) or tuned their ears to international trends, so the Lagos scene assimilated James Brown funk and British prog-rock, strange local takes on country music, bebop and the blues.
That makes this collection wayward but fun -- it isn't all Afrobeat -- and therefore a great overview of a period which has almost fallen out of the sightlines of most who think Nigeria = Fela and not much more.
As these and the other discs mentioned prove, it was the "more" that was the exciting bit.