Graham Reid | | 3 min read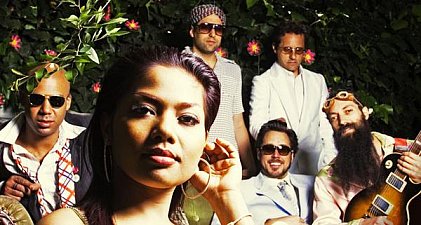 When Pol Pot's murderous thugs drove people out of Cambodia's capital Phnom Penh and into the countryside in the mid 70s, it was the beginning of the end. Figures vary but some say around two million people -- a quarter of the population -- were killed or died as the Khmer Rouge reconfigured the country based on an agrarian society and a rejection of western ideas.
Even before this era of the killing fields however, Cambodia -- a former French colony -- had been embroiled in the war in Vietnam across the border. The Americans undertook a bombing campaign against Vietcong bases in Cambodia and many people fled to the capital Phnom Penh.
In the crowded city there was a thriving pop music scene which was crushed when the Khmer Rouge took control in 1975. Many of the musicians were killed or died in the following three years.
Yet the music of the late 60s and early 70s unexpectedly reappeared in, of all places, Los Angeles when brothers Zac and Ethan Holtzmann formed the band Dengue Fever with Cambodian singer Chhom Nimol who had been singing in clubs in the Little Phnom Penh area of Long Beach.
"Ethan went to Cambodia in 1998," says guitarist and singer Zac, "and that's when he first heard the music and brought back cheap tapes. Then in 2000 I moved down to Los Angeles from San Francisco and we started hanging out and I played some music I had heard from a friend who was working at Aquarius record store in San Francisco, and it was some of the same stuff Ethan had brought back.
"We realised what a great body of music it was and what a shame it was that so many of those artists were killed and the music got cut off and never had a chance to grow into what it could have been."
Forming a loose unit to cover this quasi-psychedelic surf music and exotic pop-rock, they realised they needed someone who could sing in Khmer. Enter Nimol.
The band's first two albums, the self-titled debut in 2003 and Escape from the Dragon House two years later, saw them mostly covering Cambodian songs but their recent Venus on Earth is all original material.
Their albums have been hailed by Mojo magazine ("the world's premier Cambodian psychedelic rock band") and The Times ("if there's any justice in pop music, we'll catch Dengue Fever") although initially there was some criticism of them as cultural tourists appropriating this music.
"In my consciousness you are allowed to be inspired by whatever you like. We weren't stealing anything but we are adding to it. We were inspired by this music but are now writing original songs, I don't think we're doing anything we aren't completely moved by and feeling deeply. It seemed like a very natural thing.
"We were aware that some people could see us as a gimmick band, and we didn't want to be pigeonholed and seen as this 'world music band' or a total 'indie-rock band'. We're this hybrid. We try not to write any songs that are able to be easily categorised."
These days Dengue Fever are as at home playing the Womad circuit as in rock clubs across the States,
Dengue Fever can be heard giving their unique Cambo-pop take on Joni Mitchell's Both Side Now in Matt Dillon's 2002 City of Ghosts (which he wrote, directed and starred in) which is set in Cambodia. The soundtrack also has songs by Cambodia's Sinn Sisamouth whose music inspired Dengue Fever. He was killed in the Khmer Rouge period.
and in 2005 they went to Phnom Penh to meet and play with some of the musicians who had survived the Pol Pot regime.
Zac -- who is perhaps the fittest man in America (he was a cycle courier in San Francisco, think about it) -- says the trip was important for them to connect with the music they genuinely loved, and also for Nimol who took the opportunity to meet family and friends again after a five year absence.
While in Phnom Penh they recorded with local musicians, played live shows to somewhat bewildered but appreciative locals, and a documentary about their trip by John Pirozzi film has been doing the film festival circuit.
"When Ethan was there in 98 he was travelling for six months all over South East Asia and said Cambodia was like the wild west. He said it was crazy: just dirt roads with pot holes, but the people were very friendly and trucks would pull over and pick anybody up and take them to town.
"I'd never been to Asia, the first time was when we went as a band and filmed the documentary Sleepwalking Through the Mekong.
"There has been a huge improvement and there lots of choices of hotels. They had a big boom in their textile industry and that helped.
"And the musicians we met were tripping out on how we had discovered their music. One guy said it made him feel good about their country knowing that some of their best artists and musicians had made it around the world and had had an impact."