Graham Reid | | <1 min read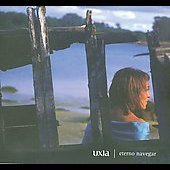 Uxia is a Portuguese singer and songwriter whose reach goes way beyond the now-familiar fado and into slinky Latin-flavoured material, some European folk of the kind which includes the tradition which links Galacia, the Middle East and the Celtic worlds, and here she allows for soft piano ballads as much as hip-shimmy arrangements.
In the beautifully packaged booklet which comes with this hardback-style album there are brief notes in English in which she says this album was a (metaphorical) voyage for her as she assimilated music from many traditions and had producer Paulo Borges (from the Azores) and other musicians help shape the music.
However it came about it is certainly impressive, even if Portuguese isn't one of your languages.