Graham Reid | | <1 min read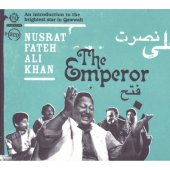 For many people the great Nusrat Fateh Ali Khan from Pakistan (who died in 1997) was and remains the greatest ever qawwali singer. He certainly reached Western audiences in a way that few had ever done and among his fans and advocates were Peter Gabriel, Jeff Buckley, Eddie Vedder of Pearl Jam and Joan Osborne.
He extended the qawwali style (a form of Sufi devotional singing), incorporated electronic instruments and he brought a powerful vibrato to songs which had previously been delivered rather more straight-ahead. At the heart of the music was his profound faith and his ability to lose himself in the music as he employed his exceptional, six octave range.
There is nothing quite like hearing Khan improvising around a melody as the musicians provide clapping percussion, the harmonium is wheezing in the background and the tabla drums are providing a relentlessly forward momentum.
And there are plenty of moments like that in this double-disc set which scoops up five traditional pieces (average time of each piece a sublime 12 minutes) and another disc of remixes from the likes of Gaudi, Michael Turner and Bally Sagoo. Khan didn't mind remixes at all (his Mustt Mustt album on Real World for example included a Massive Attack remix of the title track) and his style lends itself to x-ray and re-framing.
But always it is that astonishing voice which is at the centre, inspiring and seducing, emotional and uplifting.