Graham Reid | | 1 min read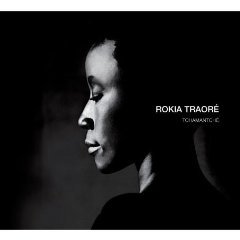 You don't have to have spent too long with world music to come across the deep well of talent out of Mali, much of which has appeared at Elsewhere: the late Ali Farka Toure and his son Vieux, Toumani Diabate, Salif Keita, the very popular Amadou and Miriam and many more.
And if you didn't already know this remarkable singer you can add her to that long list.
Born in Mali, educated in Europe and at home on concert stages everywhere, she is perhaps the artist from Mali who is extended the range of traditional music the furtherest as she combines it with an experimental approach to songwriting. She's toured a Billie Holiday show in the States and written in what might loosely be called the jazz and classical idioms, and at times on this highly impressive new album you can hear elements that remind of Joan Armatrading as much as the sound of her homeland.
And it closes with her gentle treatment of the Gershwin's The Man I Love, associated with Holiday.
This is a remarkably understated and often quiet album -- you might find yourself constantly turning it up to hear the subtlety -- and that deceptively powerful voice can here sound remarkably fragile as she pours it gently across backings from gentle electric and acoustic guitars, harp, traditional ngoni (a simple stringed with a hard edge to its sound) and the lightest of percussion touches.
It is an utterly hypnotic approach and the lovely repeated figures from guitar and ngoni provide solid but never intrusive settings for her drifting, uncoiling vocals. The mesmersing quality of Traore's voice has endeared her to an international audience over a series of impressive albums and this one doesn't break step, even though it moves her into another area again.
Intimate and melodic, serious in its lyrical concerns (the lyrics are translated but the emotions come through in her voice) and quietly impressive. If you missed her previous albums this is an excellent place to sign up.