Graham Reid | | 1 min read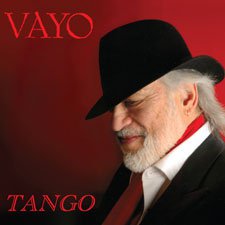 Every journalist-cum-travel writer who goes to Argentina writes about the seduction of tango, the sensual poetry of the dance and so on.
To be honest, having been there, it's hard not to. Like Venice and gondolas, Buenos Aires and tango just go together and invite words.
But fewer people write about the music of tango (as opposed to the dance), and for me who had dance beaten out of him by ballroom lessons when I was 13, the music has been the seduction.
Big names like the legendary Carlos Gardel and Anibal Triolo get airplay around my house (as do some of the Argentinean rock bands), and now to that small but selective collection I happily add Vayo Raimondo whose previous Tango Legends album was Grammy-nominated in the 2007 Latin Grammys.
Vayo is no novice: born in Uruguay, he lived in the US as an engineer for a long time then in Italy where he took singing lessons and along the way becoming something of an academic expert on tango.
In the past decade he has released a dozen diverse albums under his own name (from classical tango to originals, sometimes singing in English) and he admits that for a while the music was simply a sentimental way to remind him of his past. Which in some circles would discount it, but tango is nothing if not sentimental.
This album quivers with sentiment and constrained passion and if he sometimes lacks the depth of more legendary singers, then that takes nothing away from the finest songs here which ache over the top of the small bandoneon band.
Titles are the clue: Celos (Jealousy); Soledad (Solitude); Amame (Love Me); Nunca me Amo (She Never Loved Me) . . .
With all the songs written (or co-written) by Vayo who also arranged the music, you know that the tradition of tango song is being extended by someone who knows where this wonderful music has come from.