Graham Reid | | <1 min read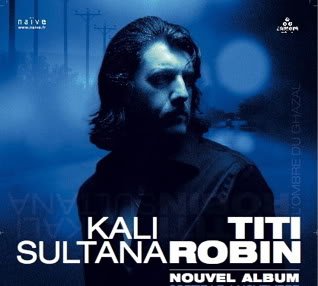 Surprisingly, this French multi-instrumentalist (oud, guitar, anything with strings) hasn't previously appeared at Elsewhere, largely because his albums are in woefully short supply in New Zealand.
Pity, he's huge in Europe for his inclusive approach which means he brings together North African styles with gypsy music, flamenco with Middle Eastern, Breton folk with . . .
You get the picture.
He's an interesting character and if he seems somewhat taciturn in interviews it's that he is as weary as any by labels such as "fusion" or "world music" and simply wants to get on with making musique sans frontieres -- which seems a perfectly acceptable position to adopt.
His albums have a muscular and sometimes visceral quality, but this time out he has a larger concept: this double album opens with an Overture, closes with an Epilogue and between times has seven major movements with an interlude piece.
It is typically inclusive: instruments played by Robin and the supporting cast include oud, violincello, bazouki, clarinet, saxophone, accordion, guitars . . .
Global in its thinking, this is a journey through moods, styles and cultures which is evocative, exciting and heartfelt -- and confirms why Titi Robin has been picking up so many accolades in the "world music" community for the past few decades, even before there was "world music".
A big and broad one.