Graham Reid | | <1 min read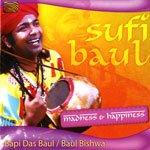 Perhaps the only Sufi musician many are familiar with is the late Nusrat Fateh Ali Khan, but his uplifting, sky-scaling vocals and the joyous spiritual elevation of his music might recommend this one. Let's hope so.
Bapi Das Baul is of the itinerant Baul tradition whose people follow a kind of divinely ecstatic madness and celebration of the spiritual in all aspects of life.
So the music is energetic and soaring, or contemplative and deep.
Here with an ensemble of tabla, flutes, keyboards, guitar, banjo, dotara and drums, Bapi brings this emotionally liberating music to life (and your lounge) on a collection of 11 well produced pieces which range from the vibrant eight minute Sadhan Bhajon Amar (Sleeping with Maya) to the brief Aar Eli Na Re Ure (My Sweet Black Bee).
As with all Arc Music releases, the liner notes are excellent and will fill in the details of Baul beliefs, and it has all the lyrics translated. But as always, it's in the grooves and this is very groove-oriented -- and spiritually uplifting.