Graham Reid | | <1 min read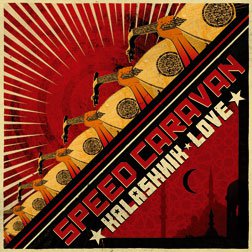 At last! When Elsewhere reviewed this thrilling album last year it was almost immediately deleted and people were demanding it, even more so after this group played at the Taranaki Womad where they were, not unexpectedly, a real highlight.
Speed Caravan's Mehdi Haddab does for the oud what Hendrix, Jeff Beck and Eric Clapton did for the electric guitar: he expands the boundaries and possibilities, and plugs in, plays fast and loud, and yet never loses sight of a gripping melodic line or ear-bending riff.
If you did manage to find a copy of the original album, I'm sorry to tell you that this version is more than just a re-issue. It adds extra tracks, the electro-thump seems to have been given greater presence in a new mix, and the whole thing fairly leaps out of the speakers. Again.
This is hip-hop influenced, politically incendiary, North African music with its ears and sights set on European and American clubland and rock stages (computer/electronics woman Hermione Frank is now well up in the credits as a full band member) and if it passed you by the first time you should certainly tune in now.
This is oud as imagined by someone with a Metallica collection and some desperate Chemical Brothers fixation.
Monster!
Don't believe me? Check out what Elsewhere people said at that original review here.