Graham Reid | | <1 min read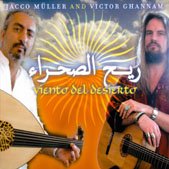 This exotic blend of flamenco guitar and oud alternates between the thrilling and the exotic, and succeeds on both counts.
Libertad, driven by urgent clapping and with the vocals of Doris Farhat keening and soaring, is a standout. It is the last track and the journey to it is utterly rewarding.
Muller (from the Netherlands originally) brings a rich, deep and dramatic tone to his guitar work, and Ghannam (who lives in Michigan) has been a longtime session musician who has appeared in the soundtrack of Xena and Hercules episodes.
Together they bridge the whole Mediterranean with Spanish and Moorish elements, and the sexual excitement of tango. The 10 minute, title track opener sets the mood (Farhat's vocals, the romance of the oud, the tension that choppy guitar chords bring) and there is a sense of space and impending drama in the slow and languid scene setting which bursts to life about three minutes in with percussion, clapping and rapid-fire out and guitar figures.
This is exciting and technically impressive instrumenatl music, but technique doesn't get in the way of them telling a good story and taking the listener on a trip.
Well worth tracking down through Muller's website here.