Graham Reid | | 2 min read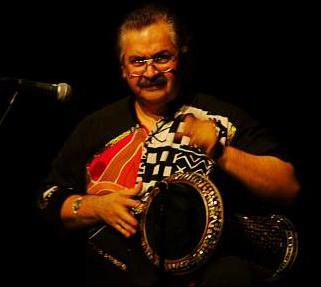 Hossam Ramzy, who has a home in England and an apartment in Cairo, is a hard man to pin down.
The first call is to the British office where the Egyptian composer and percussionist is supposed to be. No, he's flying right now but you could try him on his cellphone in two days at noon, his time.
Fine, that's 10pm here, so the call goes through - and the racket from the other end is murderous on the ear.
"I'm in a taxi in Cairo," he shouts. So 45 minutes later, when he is in his office, we can talk. And Ramzy has a lot to talk about.
As one of Egypt's leading composers he has the ear of influential friends and musicians in the West. It was Ramzy who put together the Middle Eastern ensemble for Robert Plant and Jimmy Page on their No Quarter/Unledded album 10 years ago and toured the world with them.
He has appeared on many albums with his old friend Peter Gabriel, and has recorded dozens of albums under his own name.
He recently finished Enchanted Egypt, the final album of his acclaimed trilogy with British keyboardist Phil Thornton (the previous ones were Eternal Egypt and Immortal Egypt, which won numerous awards in world music and new age magazines), done another solo project, and now "I have just completed the Arabian string arrangements for three songs by Ricky Martin for his new album."
Ricky Martin?
"Oh yes, he knows my music and I also did some work for his record company, Sony. So they rang and I did the recordings here in Cairo. I can't wait for the album to come out to hear it. Ricky has been having quite a few Middle Eastern tendencies."
Perhaps we shouldn't be surprised by the association with the Latin pop star, because Ramzy has also worked with Indian violinist Shankar, western jazz musicians and Arab pop-rock singers, and says with a laugh that when Plant and Page approached him that was hardly a stretch.
"I grew up listening to their music. And they are so into the Middle Eastern music and Indian, too. Their music is a great melange with eclectic drawings on various musics. So it was easy for us to collaborate. I think it opened many doors and I believe the more we culturally exchange we will have a better world to live in."
Ramzy, whose wife Serena is a dancer in his ensemble, is back in Cairo for a week on business. They are building a multi-purpose performance and education centre outside the city which will accommodate international students who want to study Egyptian music.
In Egypt there has been some ambivalence about the classical tradition among younger people.
"Egyptian culture has been invaded by almost every civilisation and emperor that ever took the throne, it's the fashion," Ramzy says. "They sit on the throne at midday and by 4.30pm they've said, 'Come on lads, let's go and invade Egypt.'
"We've had them all here, and now we have MTV, so a lot of the popular music is going that way.
"But there is also a pull in the other direction and people say, 'We are getting modernised - but it's getting ridiculous.' So there is a pull back to our classical music.
"But I find that in the outside world, people are more and more interested in our classical traditions than they are interested in our pop, which is cheap and to the western ear just sounds like a strange form of their own pop."