Graham Reid | | 1 min read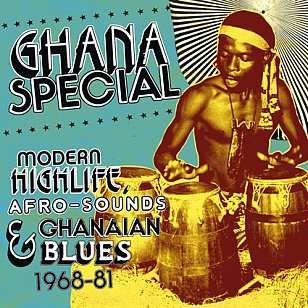 In the past few years there has been a remarakble rediscovery and re-issue of music out of various parts of Africa: Elsewhere has previously noted the comprehensive (and enjoyable) Funky Lagos collection, the early years of Fela Kuti collected on Lagos Baby, the Geraldo Pino compilation, the exceptional Authenticite compilation of artists from Guinea and many more.
This collection (on the same label as the Panama!3 compilation) turns the spotlight on the guitar-driven sounds of Ghanaian highlife at a time when many of the musicians were amalgamating some light funk from America (as well as pure pop from the UK) into their hypnotic sound where guitars are teased and tickled, saxophones sound slightly tipsy, the polyrhythms work away effortlessly beneath and the sounds just wash over you.
These 33 songs have never been released outside of Africa prior to this, and what a treasure chest of sounds: Vis-A-Vis spin out for a 10 minute guitar'n'synth groove (with horns); St Peter and the Holymen bring melancholy vocals to the otherwise vibrant rhythms of Bofoo Beye Abowa Den; the Cutlass Dance Band seem to have shaved off a little early Sixties surf music; there are jazz elements everywhere; Gyedu-Blay Ambolley and His Creations get Fela-funky on ya (with a Dizzy Gillespie guy on trumpet); Fela himself pops up with Basa Basa Soundz . . .
Not everything is so exceptional, but the misses are remarkably few.

This double disc set is a glorious discovery to revel in -- and I'm betting more than a few would like the handsomely packaged five album box set which comes with extra tracks not on the CDs.