Graham Reid | | <1 min read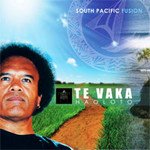 If the shadow of climate change has hung over previous albums by award-winning Te Vaka -- a pan-Pacific group (leader Opetaia Foa'i was born in Samoa, has family ties to endangered Tuvalu and grew up in Auckland's Tokelau community) -- then it is hard to hear some of this, their sixth album, without thinking of last year's tsunami which is specifically the theme of the mournfully beautiful Toe Fetaui/Till We Meet Again here.

There is a melancholy feel to other songs also (Te Mavaega/To Say Farewell) but more so there are songs which celebrate life: the love for the sea in log drum driven Tui Moana, in the lively instrumentals Tolu Afe and Talanoa Te Pate, the danceable Katakata Mai/Bring on the Smiles and the title track.

As always, culture and the strength it offers the individual is an over-riding theme (overtly in Mau Piailug/Master Navigator and the joyous Pasifika guitar pop of Mana Malohi/Supernatural Forces) and there is an optimism in both the uplifting arrangements for voices and keyboards, and in the gentle quasi-ambient opener Ata Fou/New Dawn which invites you to make the most of each day.

Te Vaka are now resident in Sydney but their heart remains in the broad blue Pacific which nurtures their soul, sound and vision.