Graham Reid | | 1 min read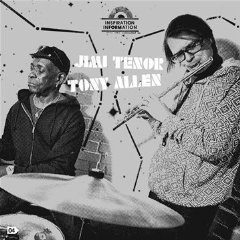 The Flight of the Conchords' astute parodies have spoiled some music for us -- and the opener here where Jimi Tenor oozes darkly "lean against the wall, I want to do it dancehall style with you baby . . . I got my tightest pants on" sounds so close to a Jemaine sleazy rap you'll laugh aloud.

That's the intention, but hardly what you'd expect from legendary Afrobeat drummer Tony Allen (of Fela Anikulapo Kuti's bands and more recently The Good The Bad and The Queen), here teamed with Finland's Tenor (and his Kabu Kabu band) on another collaboration in the Strut label series. The previous one was the superb grouping of Ethiopian saxophonist Mulatu Astatke with London's Sun Ra-influenced Heliocentrics.

Cheap laughs out of the way, Tenor (saxes, flute, homemade instruments) and Allen get down to Afrobeat business on Sinuhe, go falsetto funky on Selfish Gene and political like a more mild mannered Gil Scott Heron on Path to Wisdom which cynically pokes at Obama's theme of change.

Darker Side of Night is another Afro-funk, horn-driven workout (about S&M culture) and Mama England humorously nails the British immigration system over busy percussion and juju guitar. Afrogroove drives the 13 minute improv Three Continents.

Funky fun and enjoyable for the mainmen, but nothing breaks new ground and in fact mostly retreads and recycles.