Graham Reid | | <1 min read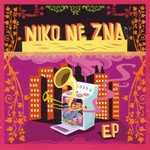 The interest in good time "gypsy" music continues after the success of the Benka Borodovsky Bordello Band (with whose style I had some problem).
This outfit from Wellington -- sax, trumpet, trombone, sousaphone, accordion and percussion -- work similar oompa/mad dancing/immediately familiar folk-framed tunes and by not having a vocalist this is straight to the dancefloor with no distractions of the kind I mentioned re BBB.
I note a comment at www.wellingtonlivemusic.com says "you can free yourself with these infectious and wild beats" and that seems perfectly apt. Questions of authenticity are perhaps not relevant here, but do have very good jazzy influence which carries them a fair way.
This very enjoyable five song EP is a sampler of their style and will doubtless be snapped up as a memento on their tours.