Graham Reid | | 1 min read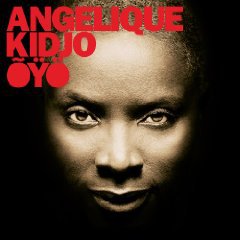 When singer Kidjo from Benin emerged in the early Nineties it seemed to me she got more mileage than she deserved, largely on the back of her story and looks rather than the music. Her early albums prior to and including Aye ('94?) really did nothing for me and so I tuned out for a while.
But then it became increasingly clear that Kidjo was no world music/folklorist/cover girl and her collaborations with jazz musicians (Branford Marsalis, Dianne Reeves), the likes of Santana and African artists such as Amadou and Miriam, Manu Dibango and others -- as well as her wide-open approach to songs which saw her covering Hendrix's Voodoo Child, soul classics and so on -- indicated here was was someone who was following her excellent instincts.
She was truly creating a "world music" idiom where the power of the song and the sentiment was paramount.
This exceptional album sees her taking a typically wide-angle approach: here are rollicking treatments of Curtis Mayfield's Move on Up (with John Legend) and the classic Otis Redding soul ache Dreams to Remember (sung in Yoruban) alongside James Brown's Cold Sweat, Aretha Franklin's Baby I Love You (with Reeves) and the jazz standard Petite Fleur as well as African styles such as high life (the joyous Kelele), a version of Miriam Makeba's Lakutshona Llanga . . .
She also mixes in some Brazilian influences and makes over the theme to an Indian movie she loved as a child into infectious West African pop.
Diverse certainly, but unified by the powerful, undeniably soulful voice from someone whose early work I seem to have seriously misjudged.