Graham Reid | | 1 min read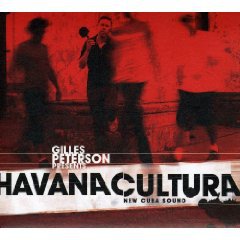 The global success of Buena Vista Social Club a decade ago meant some presumed the group represented the sound of Cuba -- and that shut out any notion there might be vibrant young players (or even hip-hop) in that land of cigars, old cars and benign, soft-focus images.

Here itinerant UK DJ Peterson helps correct that misconception and presents a double disc of contemporary music by Havana's younger musicians: one of which he made happen in a local studio; the other of his favourite Cuban artists.

The first disc with the Havana Cultura Band (and guests) is a blistering mix of fiery jazz from co-producer/pianist Roberto Fonseca which references post-bop Latin jazz (Pa'Gozar), urgent Afrobeat (their six minute treatment of Fela Kuti's Roforofo Fight, Kenny Dorham's Afrodisia) and ear-bending melodies.

For fans of the more gentle BVSC this will be a leap into hyper-space.

The second disc is a more mixed bag of 16 tracks which slew from impenetrable rap (with the occasional "wa's up"), mad salsa, slinky jazz (Caravan getting a deconstruction), some dramatic clubland trip-hop (by the impressive Danay) and some slippery ballads.

Peterson may seem a cultural tourist (black funk and Brazil previously, Cuba now) but he brings keen ears and integrity, and the first daring disc here -- where he does "a Ry Cooder" -- impresses mightily.