Graham Reid | | <1 min read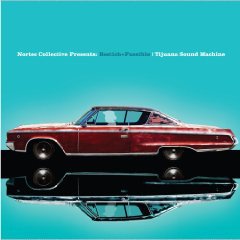 Often things just turn up unexpectedly at Elsewhere and this album from Tijuana's electronica outfit Nortec (a neoligism from Norteno and Techno), was certainly unexpected. It came out almost two years ago.
The NC keep things very simple -- beats, samples, melodies -- and that is part of the charm: think back to the roots of hip-hop or electronica and remember how elemental things were.

These guys -- Ramon Amezcua and Pepe Mogt who style themselves Bostich and Fussible -- aren't above using vocoders and the most simple of electronic gear, and you could imagine much of this being the soundtrack to Frogger or Pacman if they had originated south of the Border.
This is not to diminish this (I have no doubt they could be more musically sophisticated should they so choose, as on the earlier Tijuana Sessions Vol 3) but it does feel a little undercooked throughout, especially in the comparison with Mexican Institute of Sound. Or the lively Bar Mexico double-disc that came out 18 months ago.
Interesting, just not interesting enough over the long haul.