Graham Reid | | 3 min read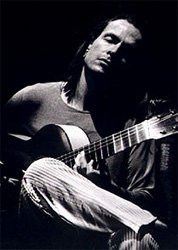 Very few musicians can claim to have created a genre, but with his 1990 album Nouveau Flamenco, guitarist Ottmar Liebert did exactly that.

Liebert's hybrid style -- which existed somewhere between Spanish passion, classical melodicism and mellow New Age music -- spawned innumerable imitators and ensured this affable Santa Fe-based musician (who was born in Cologne to a Chinese-German father and a Hungarian mother), a long career.

In fact Liebert has released 22 albums since Nouveau Flamenco, the biggest selling guitar album of all time apparently.

He has branched out into albums of remixes (he got hate mail after the first one from those who felt he had betrayed the acoustic ethic), sells his music through his website, and lives a leisurely life only playing about 10 shows a month.

Surprisingly, Liebert says he hasn't undertaken a major international touring schedule for many years and his return to New Zealand in 2006 was one of the few times he has been outside the United States (with the exception of a few concerts in Europe) since he was last here in '99.

Once again he is touring with his Luna Negra band but notes that lately he has been exploring solo shows. For a man who prefers the quiet life at home with his family -- he rarely goes to concerts or movies because of the volume of the sound -- this solo work has re-invigorated him.

"I'd always done music which was layered and thought out, and this is the very opposite. I started doing it for myself and I'd record a piece -- about 70 percent is improvised on the spot -- and I'd put them in the download store on our website. They were received well, and people wanted to get the music on CD -- so I've now got an album of solo work, One Guitar, coming out.

"Interestingly enough, Nouveau Flamenco which started all this hoopla was just done for myself as well. That's a good place to be in as an artist, to do stuff for yourself. Music shouldn't be there to sell or be a hit, it should be there for its own sake."

Liebert's career took off in away that has some parallels in this age of the Internet when musicians find their audience through direct contact rather than major record companies: He initially recorded some instrumental tracks with his band; a Santa Fe artist liked what he heard and started distributing the music through local galleries; a radio station played some of the tunes; a small label picked up the album and started regional distribution; finally the multinational company Sony jumped on board . . .

These days Liebert is maintaining much the same pace and structure in his career and lifestyle: "Taking two hours for lunch with a friend is for me a good day, it's about taking the time."

He records at his home studio and spends much of his day reading -- his conversation includes references to American Zen poet Gary Snyder, sci-fi writers, and various architects and philosophers -- or looking after his kids.

Somewhat of a polymath -- he admits 40 of his photographs on his website have been licensed to various tourism boards and city guides in Rome, Austin and Santa Fe, thus doing stock photographers out of a living -- he has strong opinions about what has happened to the appreciation of music in the past few decades.

"Music been diminished. Round here if you gas up your car there is a speaker blaring out country and western music. The guitarist Robert Fripp calls [these speakers] NPUs, noise pollution units, and I remember reading about the German band Kraftwerk who had nail clippers with them and would clip any exposed speaker wire.

"We are totally being desensitised to music. Most of the information we assimilate is taken in visually, we don't listen to story tellers or have an oral exchange of information much and I think the eyes are very masculine.

"The ears are more feminine and are like receptacles. Eyes can close, but ears are always open."